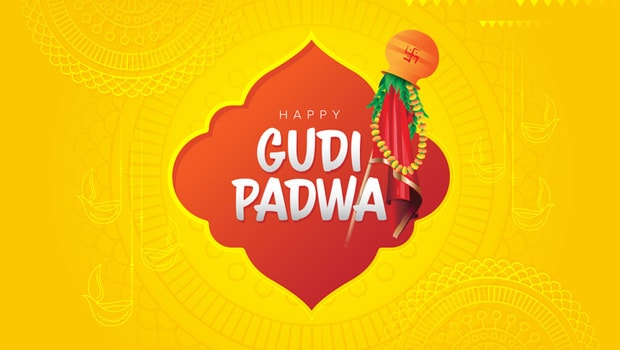 As we prepare to begin the nine-day festival of Navratri on April 2nd, Maharashtrians will celebrate Gudi Padwi on the same day to commemorate the start of the new solar-lunar year. Gudi Padwa, like Chaitra Navratri, falls on the first day of the Hindu month of Chaitra, according to the Gregorian calendar. The word 'Gudi' in Gudi Padwa means 'Brahma's flag,' while the word 'Padwa' means 'first day.' People hoist adorned Gudi flags and perform puja at home on this day. Of course, the day concludes with a variety of classic meals.
This Gudi Padva, surprise surprise your family by making them these yummilicious desserts with Mamafeast Chocolate Spread and give the traditional desserts a new twist . These recipes are quick to make and made using the ingredients that are not only tasty, but also healthy.
Chocolate Modak
The most simple chocolate modak for Gudi Padva! The ultimate fusion version doesn't get any better than this. This is a quick and simple chocolate modak recipe.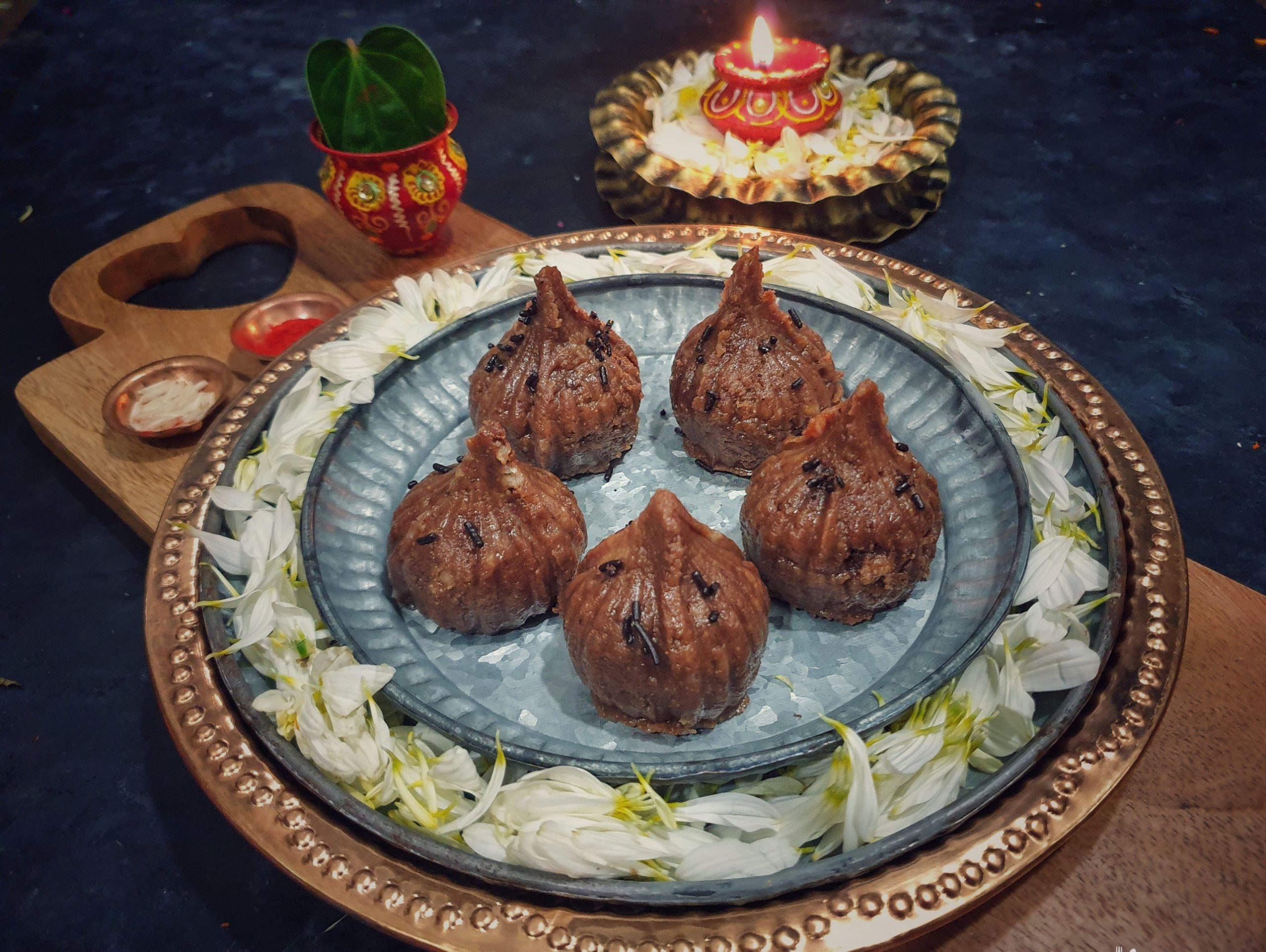 Ingredients
⅓ cup Milk
⅓ cup Sweetened condensed milk
1/4 cup Chocolate chips
1 ½ cups digestive biscuits crumbs
¼ Pistachios finely chopped
Method of preparation
In a medium-low heat pan, combine the milk, condensed milk, and Mamafeast Chocolate spread.
Allow it to melt while swirling often to prevent it from sticking to the pan. It should be fully melted, glossy, and smooth.
Now stir in the digestive biscuit crumbs.
Begin mixing and add the chopped pistachios halfway through.
It should come together like a dough ball after you mix it.
Place it on a dish and let it to cool to the touch.
Ghee should be used to grease a modak mold. Keep the mold close at hand.
Stuff the bottom hole with a little bit of it.
Then, carefully remove the mold from the oven.
Then, for the rest, repeat the process.
Chocolate and Nuts Gujiya or Gujia.
For Gudi Padva, make the simplest chocolate Gujiya or Gujia! It doesn't get any better than this for the ultimate fusion version. This is an easy recipe for chocolate Gujiya or Gujia.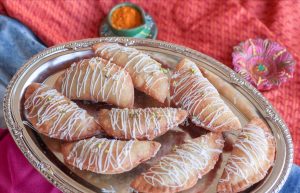 Ingredients
3/4+2 Cup+tbsp All Purpose Flour/Maida
2 Tbsp Semolina
1/2 Cup Mamafeast Chocolate Spread
1/2 Cup Mixed Dried Nuts(Finely Chopped)
1/4 Cup Coconut flakes
2 Tbsp Ghee/Olive Oil
1/4 tsp Salt
Method of preparation
Combine the flours and salt in a mixing bowl.
Add the ghee/oil and massage it into the flour until it resembles breadcrumbs.
Using milk, knead the mixture to a soft dough. Keep the dough covered with a moist towel and set aside.
All of the nuts should be finely chopped. Flakes of roasted coconut
In a mixing dish, combine the Mamafeast Chocolate Spread, chopped almonds, and coconut.
Divide the dough into equal sections the size of tennis balls and shape into a very thin disc.
Place a tbsp of filling in the center and fold into a half-circle.
Seal the edges with maid slurry and push the sides with a fork.
In a kadhai or heavy bottom pan, heat the oil. Drop gujiyas one at a time into heated oil. Please make sure the oil is not too hot, else the gujiyas will not cook from the inside and the outer covering will bubble up.
Fry till light brown, then drain on a kitchen towel.
Roll in coconut flakes or sprinkle with chocolate before serving.
Chocolate Shrikand
For Gudi Padva, make the simplest chocolate Shrikand! It doesn't get any better than this for the ultimate fusion version. This is an easy recipe for chocolate Shrikand.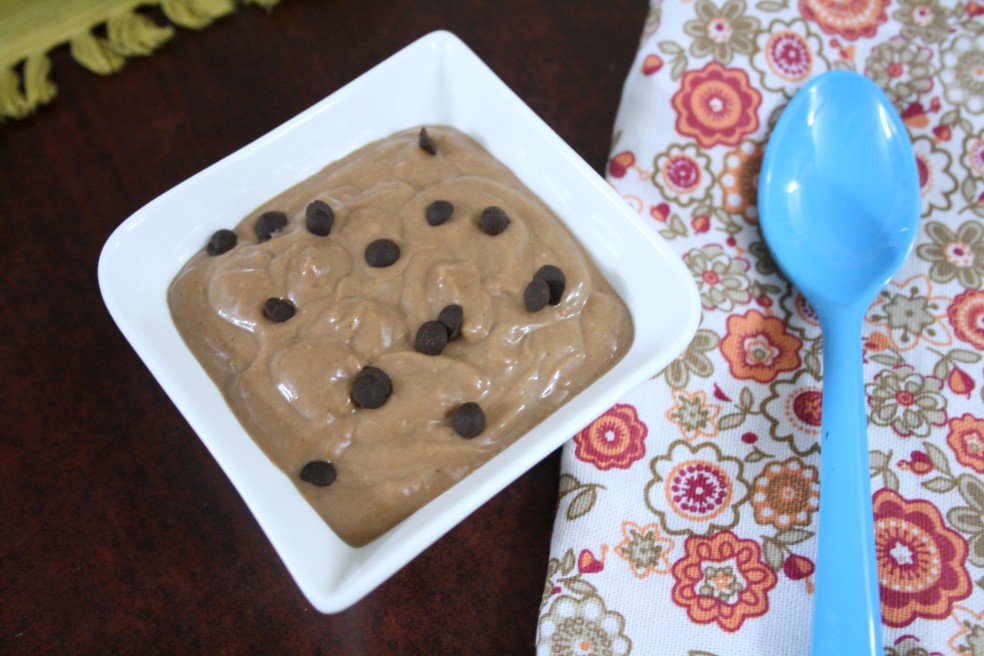 Ingredients
Method of preparation
Empty the yogurt into a muslin cloth that has been draped over a dish.
Refrigerate the yogurt for 3-4 hours, or until the whey separates and you get thick hung yoghurt.
Using a whisk, blend the hung yogurt with the remaining ingredients.
Refrigerate for an hour to allow the mixture to harden in two bowl and garnish with nuts and Enjoy!
Hope you try these three yummy recipes made with Mamafeast Chocolate spread and do let us know by tagging us in your post on Instagram by the name mama_feast .
Want to purchase amazing Mamafeast products click here. You can learn more about NextG on our website here.