We at Mamafeast are thrilled to present to you our newest product. Yes! Yes, Mamafeast will soon introduce a brand-new product. We are grateful for the amazingly positive feedback we received for all of our previous goods. We made the decision to introduce our next product in line after the success of our previous products.
You may now enjoy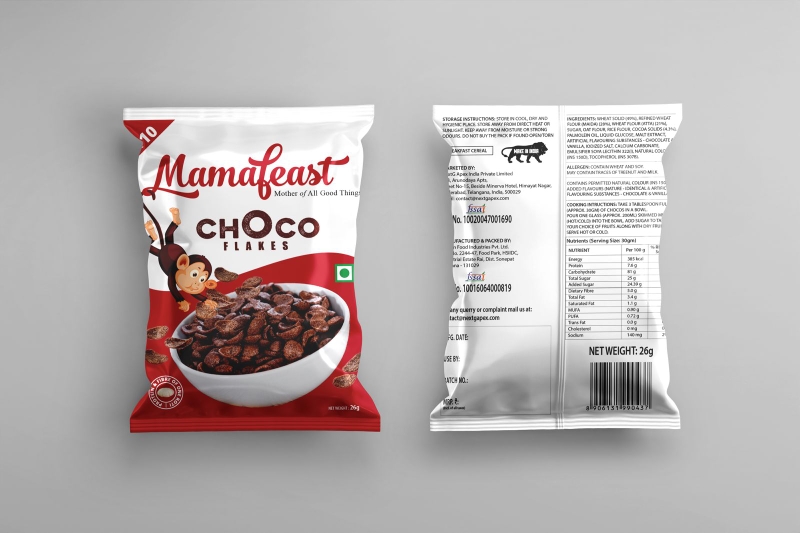 Our Choco Flakes were designed after conducting in-depth consumer research, therefore we are confident that they will satisfy our customers with their taste and the health benefits of grains. We believe that since Choco Flakes can be eaten both as a breakfast cereal and as a snack, it makes it one of the potential competitors in the breakfast and snacks market.
In addition to refined flour, cocoa powder, and sugar, Mamafeast Choco Flakes are produced with the benefits of three healthy grains: rice, oats, and wheat. Mamafeast Choco Flakes primarily serve as a filling and substantial breakfast for kids. While naturally devoid of cholesterol, it offers protein and fibre. It has been enhanced with vital vitamins and minerals for your active children. The protein and fibre content of one 26g wheat roti is equivalent to one serving of 26g Choco Flakes. The added cocoa powder makes the product tasty and makes milk chocolaty and delicious for kids. Mamafeast Choco Flakes can be eaten directly from the package or with hot or cold milk.
Mamafeast Choco Flakes, available in a 26 gm pack for Rs. 10, will be offered in all major general and modern trade stores throughout the nation.
The best ingredients were used in the production of every product at Mamafeast. Every one of our products has been created with taste in mind. Our products are not only healthy but also tasty and filling. Giving you the energy to have a great day ahead. We hope that with the range of products from the house of Mamafeast you will be able to take care of you and your family's healthy eating habits in a hassle-free manner.
Click here to purchase any of the wonderful Mamafeast products. On this page of our website, you may find out more about NextG.
If you've used our products, please let us know in the comments below. Alternatively, you may leave reviews on the e-commerce site where you bought our products. Share our products with your friends and family so they also get health benefits.