Holi is a festival of colours that is celebrated across the country with great pomp and show. It is one of the most prominent holidays that commemorate the spring season. To pamper their loved ones on this event, people cook a variety of delicacies such as gujiya, malpua, dahi bhalle, and so on.
This is the time of year when everything else in life takes a back seat and it's all about celebrating the holiday with loved ones. Because this festive celebration heralds the arrival of spring and represents the triumph of good over evil, it serves as a beacon of hope, love, and pleasure.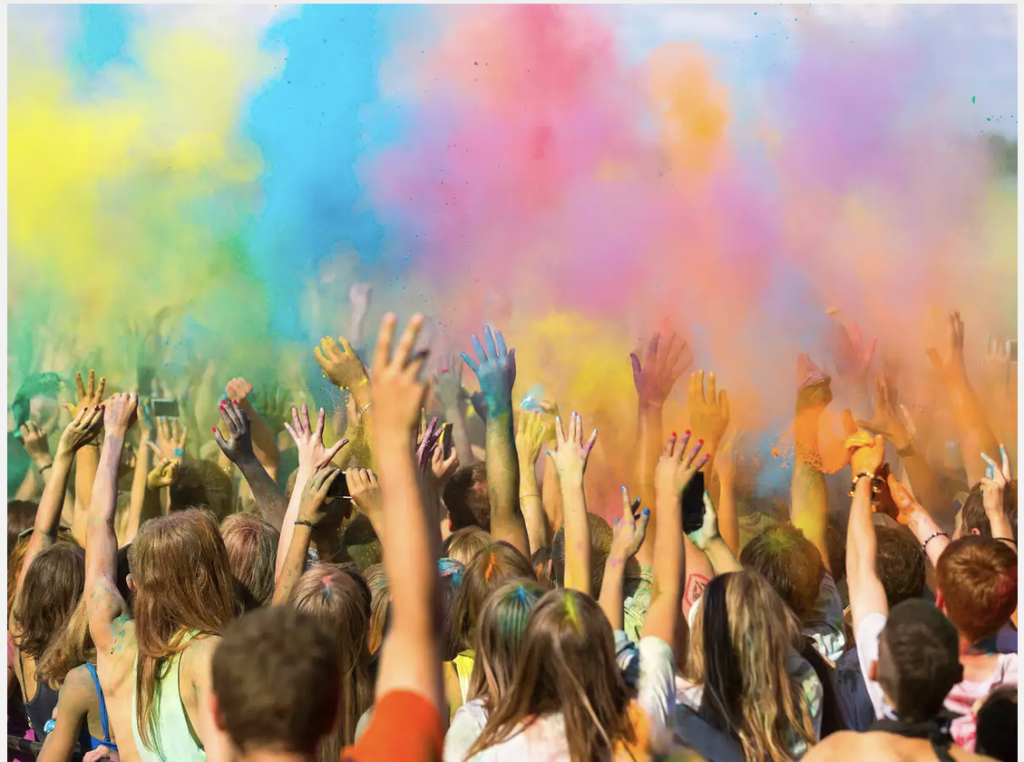 Especially in India, the celebration would not be complete without good food and drink. So when you're tinkering with a bright galal, be sure to drink a cold drink and at the same time eat a hot treat. Indian food varies from place to place, but there are some dishes that are loved by everyone during this fun celebration.
Dals are extremely popular in India and are essential to the subcontinent's cuisine. In Indian cuisine, a variety of lentils are used to make a variety of tasty and healthy curries, and other savoury and dessert foods. Dal is an important element of many Indians' lunch and supper meals, both vegans and non-vegetarians alike. For many people, the modest protein-rich dish is equivalent to comfort food. However, for many others, it is not the most intriguing or appetising dish available. Dals are quite flexible and may be ground to produce a variety of snacks. Another intriguing technique to prepare dal is to use it in desserts.
The following are some traditional dishes as well as some novel goodies that will make your visitors swoon. Continue reading to see a great list of culinary dishes that you may cook with Naturefest dals during Holi:
Puran Poli
This fun Maharastrian dessert is basically a flatbread or paratha-like dessert, filled with a mixture of sweet dal and ghee-polished. Dal mix is ​​made from Chana dal or split Bengal grams, pressure cooked with sugar and water, and packed into paratha made from refined or whole wheat flour.
Ingredients
For mixture:

1 cup Moong Dal
3 cups Water
1 cup Sugar
1 tsp Cardamom Powder
Nutmeg, grated

For making dough:

2 cups Wheat flour
1 tsp Salt
2 tbsp Ghee
1 cup Water
Method of preparation
Prepare dal mixture:

Put the moong dal in a pressure cooker, cover with water, and pressure cook for a minute (3-4 whistles).
Drain the water and finely crush it. Pour the mashed dal and sugar into a pressure cooker. Cook it slowly after fully mixing it.
Mix in the cardamom powder and nutmeg until well combined.
Continue to mix over a low heat until the mixture is dry.
Allow the mixture to cool.

Prepare the dough:

Take wheat flour in a mixing bowl.
Season with salt and ghee. Combine thoroughly.
Make a semi-soft dough by adding enough water.
Wrap the bowl with a plastic sheet or moist towel for 30 minutes.

Prepare Puran Poli:

Create flat balls out of the dough, similar to how we make chapatis.
Dust it with wheat flour and roll it into a circular shape using a roller.
Fill it with the puran (stuffing) and then cover the edges. Roll it out again in a circular shape.
Heat the tawa and fry the puran poli on both sides with a generous amount of ghee.

Puran poli is ready to eat. Serve hot with additional ghee drizzled on top.
Moong Dal Payasam or Moong Dal Kheer, also known in South India as Pesara Paruppu Payasam, is a thick, creamy sweet dish cooked with Moong dal, milk, and dried fruits. It's similar to a North Indian kheer prepared with dal.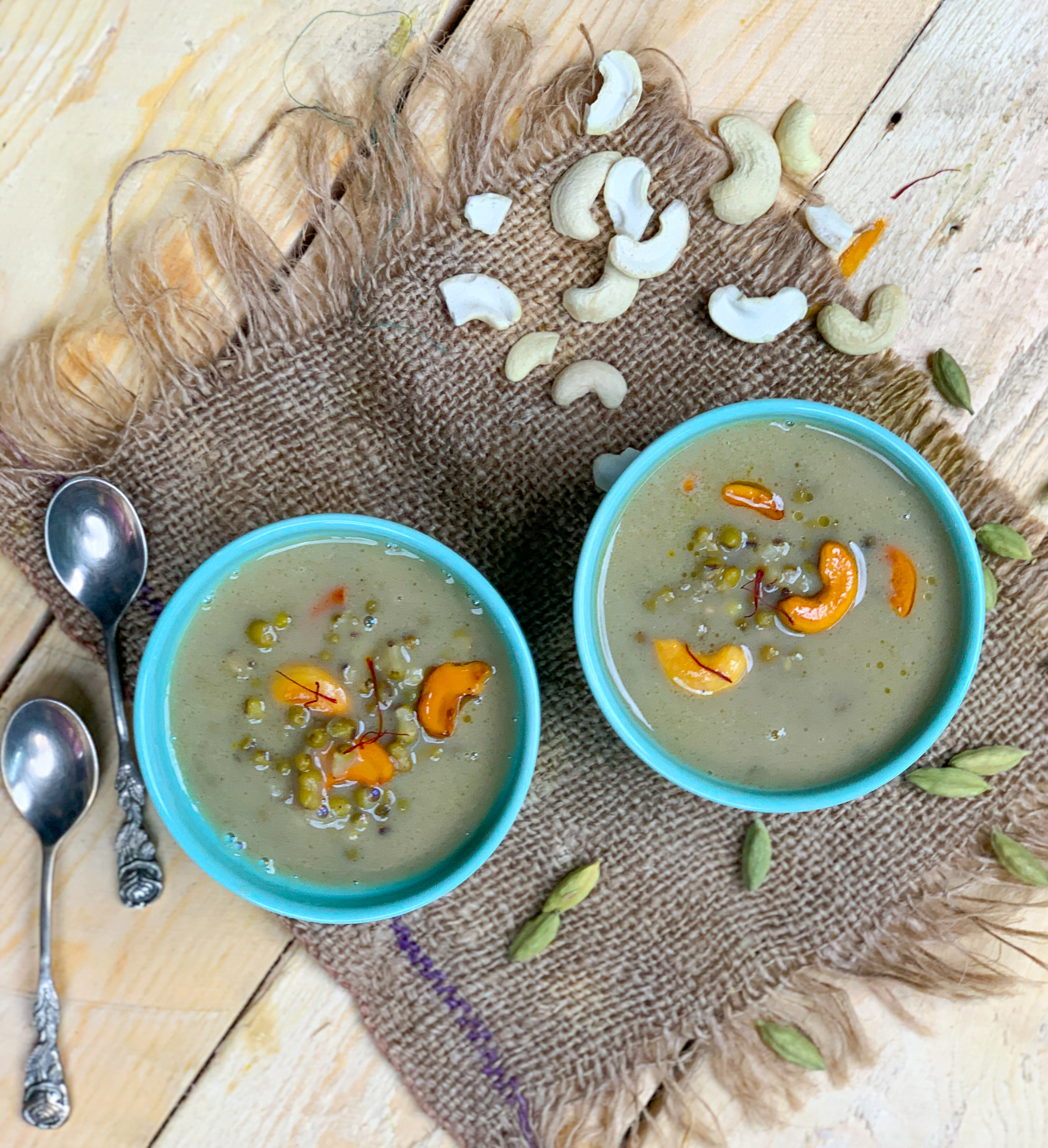 Ingredients
1 tsp Ghee
1/3 Cup Moong Dal
3 Cups Water
2/3 Cup Jaggery
1/8 tsp Cardamom
2/3 Cup Coconut Milk (neither thick nor thin)
5 Cashew (chopped)
1 Tbsp Dry Coconut Flakes (finely chopped)
Method of preparation
To begin, melt 1/2 tsp ghee in a heavy-bottomed pan. Roast the moong dal till it has a pleasant aroma and gets slightly golden.
Add around 2 cups of water to the roasted moong dal and simmer over medium heat. Cook until the moong dal is tender. It should not be crushed or undercooked. If necessary, add roughly 1/2 to 1 cup more water for cooking.
Meanwhile, combine the jaggery and the remaining 2/3 cup of water to melt. Add the jaggery syrup to the cooked moong dal after straining it through a fine metal mesh strainer. Cook, stirring constantly, until the jaggery syrup bubbles and thickens slightly. Stir in the cardamom powder well.
Cook for a minute or two after adding the coconut milk. Turn off the heat.
Heat the remaining 1 1/2 tsp ghee in a separate skillet and sauté the cashew and coconut flakes until golden. Mix in the cashews, coconut flakes, and ghee to make a smooth payasam.
Serve hot.
Halwa is a dessert that can transform any dish into something delectable. Chana dal halwa is simply a version of moong dal halwa, which is more popular yet as wonderful.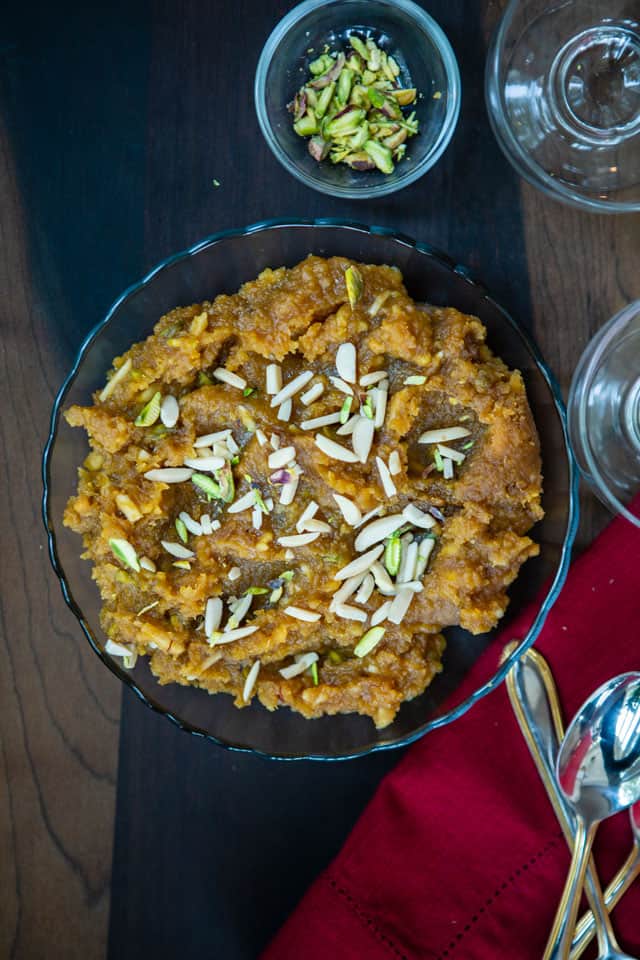 Ingredients
1 Cup moong dal
1 cup water
3 tbsp ghee
1 tsp saffron
1 cup sugar
2 tsp cardamom powder
1/2 tsp clove powder
10 pieces almonds
10 pieces cashewnuts
Method of preparation
Soak moong dal for 2 hours in water.
Combine the soaked moong dal and water. It should be pressure cooked.
Pour ghee into a kadhai and add moong dal.
Cook the moong dal till it becomes a thick liquid.
Mix in the saffron well.
Now stir in the sugar, cardamom powder, clove powder, almonds, and cashews.
Garnish with chopped almonds if desired.
This delicious gluten-free delight originates from the picturesque Rajasthan, the region of forts, palaces, and camels, and is a popular delicacy savored lovingly during cold weather, gratifying the taste senses while also keeping the body warm.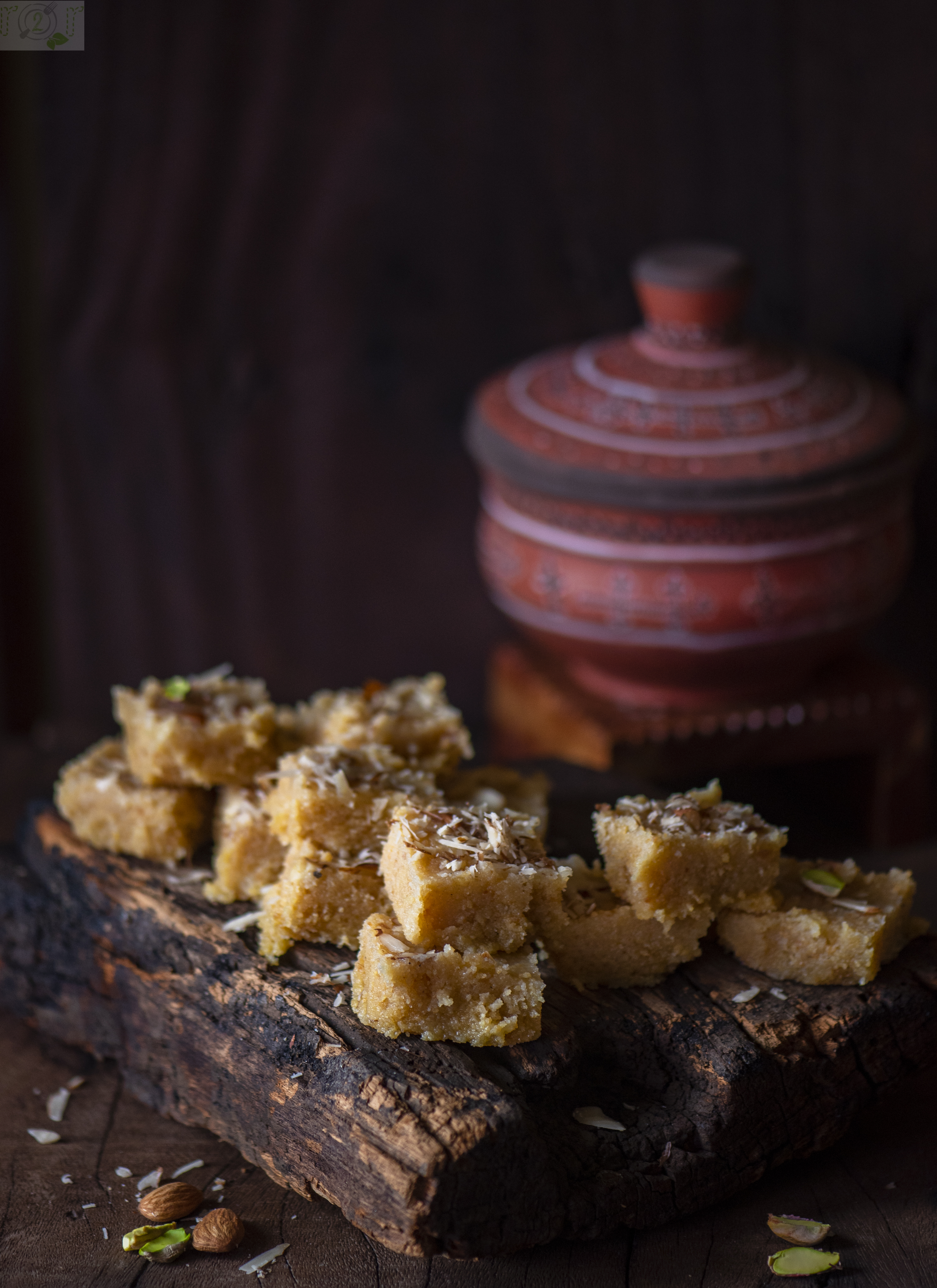 Ingredients
1 cup yellow moong dal
1 cup mawa
1 cup sugar or to taste
3/4 cup ghee
1/2 tsp cardamom powder
few saffron strands dipped in 1-2 tbsp warm milk
dry fruits of your choice( optional)
some warm water or milk in a cup to loosen the if needed batter( optional)
Garnish

few toasted halves of almond or pistachios
few saffron strands
Method of preparation
Soak the yellow moong dal for at least 3-4 hours or overnight.
Strain and smash until the texture is medium coarse.
Begin roasting and frying the dal batter in a heavy bottom pan or wok over a low to medium heat.
To keep the lentil mixture from adhering to the edges and bottom, keep adding ghee.
It would be advantageous to use a nonstick vessel. Roast it until the raw scent has vanished. This will take some time; patience is required, and it might take up to 30 minutes.
It needs a lot of ghee, but I didn't use much of it. If it seems a bit dry, add a little extra ghee.
After it has been well toasted, add the dried fruits of your choice. Now add some cardamom powder.
If the roasted dal needs to be loosening up, add a little warm water and mix it.
I gradually added it to the mixture, swirling often at the bottom of the pan to ensure that all of the liquid was absorbed with no lumps. If you don't need to, you can skip this step.
Mix the mawa into the batter once more. Cook the entire batter for a few minutes more.
Sugar syrup preparation

Now make the sugar syrup for the barfi. Place 1 cup of sugar and 1 cup of water in a utensil over a flame.
Cook for 1-2 minutes once the water begins to boil. The sugar syrup is now complete.
Cook for another 1-2 minutes after adding the sugar and saffron dipped in milk.

Make sure the batter is wet and not dried out, and don't overdo it.
pour the cooked mixture onto a greased pan or plate and smoothed it up with a spatula.
Sprinkle with almond or pistachio halves and gently press them in. Barfi will be ready in 2 hours. Cut the mixture into squares now. The moong dal barfi is ready.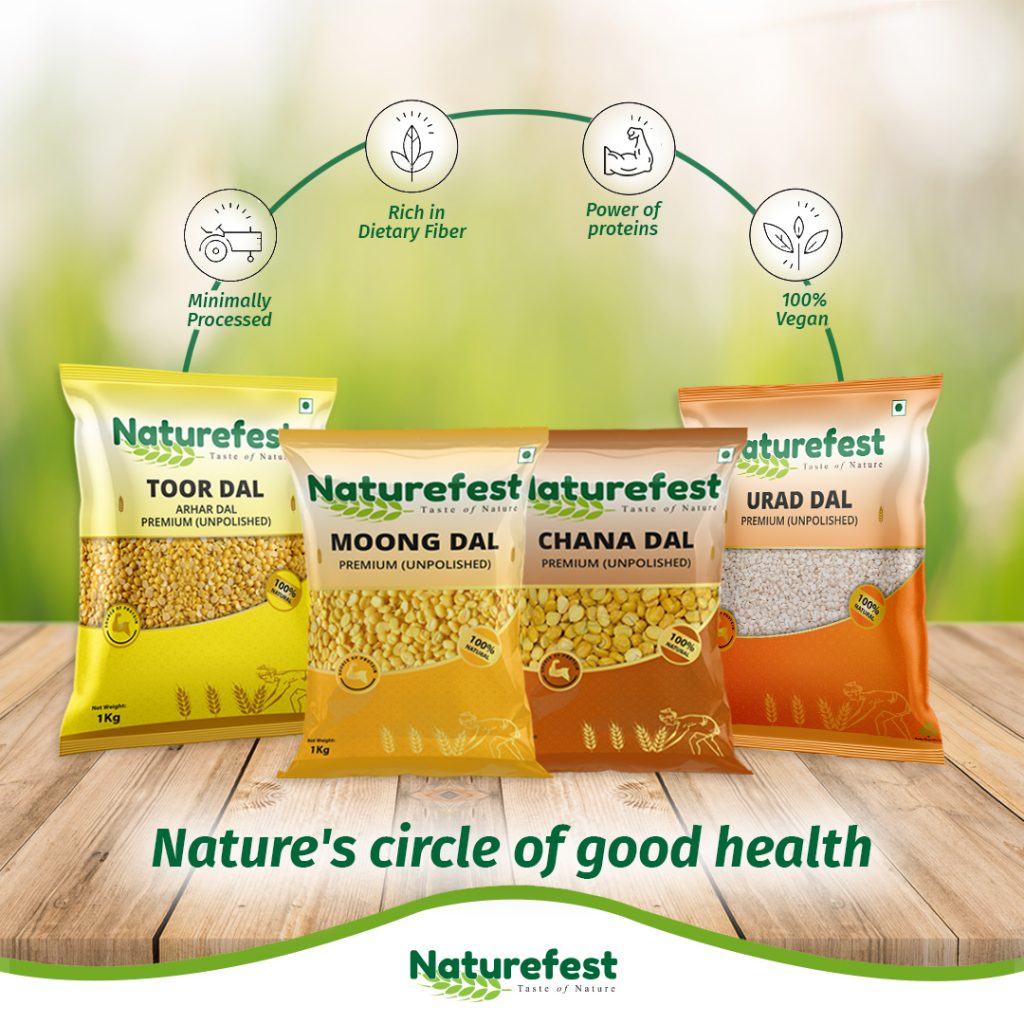 Even if you decide to skip balloon fights or greasy synthetic colors, the Holi party will be fun enough with these yummy desserts made with dals. Just go shopping and pick our Naturefest dals and make your favorite dessert with dal and enjoy it with your family and enjoy your Holi party.
Enjoy Colourful Holi and Play Holi responsibly with Organic Colours.
You can learn more about NextG on our website here.