It's not difficult to fall under the spell of chocolate, and once you are, there's no getting out of it. Chocolate is, without a doubt, a never-ending love affair. Chocolate is a delicacy that everyone enjoys. We created Mamafeast Chocolate spread with the benefits of hazelnuts to satisfy everyone's chocolate cravings.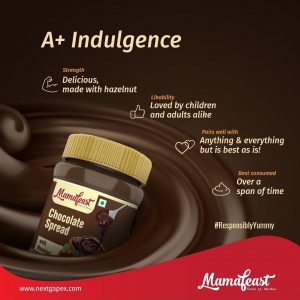 Valentine's Day is approaching, and while many people pick cards, flowers, or jewellery as gifts for those they love, chocolates are always a popular way to show someone you love. Heart-shaped boxes filled with chocolates are a relatively recent tradition, but the bond between chocolate and love actually goes back thousands of years. Keep your sweet tooth at bay as you read on to learn to make delicious chocolate desserts and surprise your loved ones on Valentine's Day instead of giving them the same old box of chocolates.
Pumpkin spiced Chocolate Tart
Ingredients
For Crust:

250gms powdered digestive biscuits
80gms melted butter
For filling:

For the corn slurry:

1/4 cup of heavy cream
4 tbsp cornflour

350ml heavy cream
250gms Mamafeast Chocolate spread
1 tbsp pumpkin puree
1 tsp pumpkin spice
1 tsp vanilla essence
Pinch of salt
Method of preparation
In a mixing bowl add 250gsm powdered digestive biscuits, and 80gms melted butter and mix it well.
Spread this biscuit mixture in a tart mold and let it set in the fridge for 30 minutes.
In another mixing bowl add 1/4 cup of heavy cream, and 4tbsp cornflour. Mix it well until it forms a slurry like texture and keep it aside.
In a pan heat 350ml of heavy cream, and 250gms Mamafeast Chocolate spread and mix well.
In this cream and chocolate mixture add 1 tbsp pumpkin puree, 1 tsp pumpkin spice, 1 tsp vanilla essence, and a pinch of salt and mix well.
To this mixture now add the corn and cream slurry we had made earlier and cook the mixture for 5 minutes or until the mixture thickens.
Pour this thick filling into the biscuit tart made earlier and let this set in the fridge for 3-4 hrs.
After 3-4 hrs garnish the tart with pumpkin spice and cream and serve.
5-Ingredients Chocolate Brownie
Ingredients
Method of preparation
In a bowl add Mamafeast Chocolate spread, 2 whole eggs, 1 tsp vanilla essence, and 1 tsp baking powder. Mix well.
Add 1/2 cup flour to the chocolate mixture and mix well.
In a baking tray lined with baking paper add the chocolate and flour mixture and bake it 180°C for 15-18 mins.
Garnish these soft & fudgy brownies with Mamafeast Chocolate spread, and serve.
Chocolate Banana Sandwich
Ingredients
Bread
1 banana chopped into slices
Method of preparation
Apply Mamafeast Chocolate spread on bread slices.
On one bread slice add the banana slices.
Toast the sandwich in a toaster or on a pan until the sandwich is nice and crisp.
Cut the sandwich into triangle shape and serve.
Hope you try these three yummy recipes made with Mamafeast Chocolate spread and do let us know by tagging us in your post on Instagram by the name mama_feast .
Want to purchase amazing Mamafeast products click here. You can learn more about NextG on our website here.